Sailing
Westernport Laser Regatta At Point Leo
The 2017 Point Leo/Westernport Laser Regatta sailed on Sunday 5th February 2017.
Go to results page for results.
Tackers 2017 – Congratulations Graduates
Point Leo BC congratulates all graduates of the Tackers, and other Sailing courses run by The Mobile Boatshed at Point Leo this January.  A very successful program. We look forward to a new program next year.  Thanks to our busy Rear Commodore Meg Price for her organisation and help.
Sunday 29th Jan Race – Lowe Cup
Go to the Sailing Results page for details.
Powerboat Handling Course

Congratulations to those who completed their Power Boat Handling Course on the  18 December 2016. The club welcomes the graduates to help run the safety boats this year.
Contact the Rear Commodore:   Meg Price  0417 883 870 E: megprice@hrinside.com.au
Contact Safety Boat Club Captain:  Lincoln McMahon: 0488 588 357 E: tanderra@gmail.com
Summer Sailing & Social Program 2016/2017
Click here to go to the Sailing Program page.
For Sale: Opti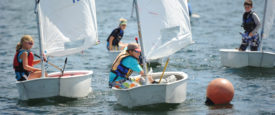 Contact: Stephen Roach  0431 180 105 – Can view on the Boat Deck